Taillardat – everything you need for an office or study with real style!
At www.taillardat.fr you can browse a whole range of different furniture products made from the finest materials and lovingly crafted by the skilled employees of this French company. Although many items are designed for the bedroom and living room, plenty of Taillardat's creations are well suited to the home office.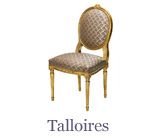 Multiple desks, including Louis XVI desk models, are available to choose from. Some designs are purely decorative, but many have features like a leather table-top and lockable drawers which mark them out as being dedicated working desks. Taillardat desks, like its chairs, come in a number of different woods. Beech wood is amongst the most common, but cherry wood and mahogany are also popular.
Whilst the choice of wood is an important component in the making of any piece of furniture, it's really the mastery of age-old skills such as French polishing, cabinet-making, joinery and wood carving that are crucial. This is what enables Taillardat's craftspeople to produce authentic recreations of famous styles ranging from Louis XVI (as seen in the Talloires chair illustrated below) to the Empire style.